Join us for a spectacular sea kayaking vacation to Baja, Mexico. Just off shore from La Paz, in south Baja on the Sea of Cortez, lies one of the finest warm-water sea kayaking destinations in the world…Isla Espiritu Santo! Pristine white sand beaches, crystal clear water, deeply indented bays protected by intriguing rock formations, abundant marine life and numerous neighboring islets…these are some of the characteristics that bring many of our guests back to this enchanting island year after year. Choose a four-day quick escape or seven-day circumnavigation kayaking along Isla Espiritu Santo. The seven day trips circumnavigate the entire island while four days is a perfect time-frame to paddle the length of the island one way. Group sizes range from four to fourteen guests. Guide to guest ratio is one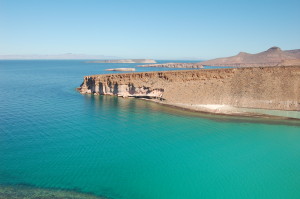 to six. In January and February, you may choose to join one of our trips that combine kayaking along Espiritu Santo with a visit to the famous pacific lagoons which are teeming with grey whales. Your guides are bilingual, knowledgeable, extremely safety conscious, environmentally aware, friendly and fun to be with…we feel they are the finest, most qualified kayak guides in Baja.
---
Two different trip styles are offered: 1) cooperative expeditions and 2) fully catered, motor-skiff supported expeditions. 1) Cooperative trips are styled after a true expedition and involve guests in all aspects of the trip, including packing gear into their kayaks, setting and breaking camp and helping the guides with meal preparation and clean-up. 2) Fully catered trips allow for gear and coolers to be carried in a panga (motor skiff) which travels ahead of the group to set up camp. The panga driver prepares fabulous meals, takes care of all kitchen duties and is able to keep cold beverages throughout the trip. Typically we paddle two to four hours in the mornings and fill our afternoons snorkeling and hiking or just relaxing and soaking up the glorious Baja sun. Every day is different and there is always a surprise around the next headland; perhaps a huge manta ray leaping out of the water or dolphin and whale sightings! Each trip allows for the unforgettable experience of swimming with sea lion pups at Los Islotes – a small islet harboring a huge population of sea lions. Quality sea kayaks, camping gear and all meals are provided during the expedition. Our guests just need to bring their own sleeping bag and personal items. The sea is quite warm in the spring and fall (low 80's) but dips down to about 70 degrees in mid winter – this is a comfortable swimming temperature, however a bit chilly for extended snorkeling. Therefore, shorty wetsuits are recommended December – March. Wetsuits and snorkel gear may be rented. Daily flights are available directly to La Paz or you may fly into Los Cabos. Buses depart once an hour between San Jose Del Cabo and La Paz (three hours), as well there is a small airport shuttle from San Jose Airport to La Paz several times a day.
Espiritu Santo Quick Escape – 4 days/3 nights: $585-$770
October – May. We'll explore about half of the island, paddling to a new camp each day. There is plenty of time to hike, snorkel, and relax at camp. We will also visit Los Islotes to swim with sea lion pups and snorkel amongst thousands of tropical fish. You will marvel at one of the worlds most diverse natural aquariums. All meals during the expedition are included in the trip price. Accommodations in La Paz are not included in the trip price, however we are happy to make your reservations locally or recommend several options.
Espiritu Santo Circumnavigated – 7 days/8 nights: $890-$1330
October – May. Paddling in paradise – seven days kayaking, snorkeling, hiking, and relaxing on one of the most beautiful islands in the entire Sea of Cortez. We'll circumnavigate the island, exploring the rugged shoreline, off-shore islands, headlands and deeply indented bays, making each day a new adventure. The west coast of Espiritu Santo is studded with some of the most spectacular white, sandy bays you can imagine while the east coast has enormous towering cliffs, bizarre rock formations and alluring sea caves. We'll visit Los Islotes to swim with sea lion pups and tropical fish. There is an excellent chance that we'll encounter dolphins and perhaps see cruising whales and giant manta rays breaching from the sea. Halfway through our journey, a panga (motor skiff) will visit one of our camps, bringing fresh supplies and cold beverages for the second half of the trip. Accommodations in La Paz the first and last night, along with all meals during the expedition and a farewell dinner in La Paz are included in the trip price.
Espiritu Santo/Magdalena Bay Whalewatch – 7 days/8 nights: $1310
January – February. This trip combines the four day "Quick Escape", kayaking along Espiritu Santo as described above, with a two day excursion across the peninsula to Magdalena Bay where we will encounter the world's most prolific breeding grounds for gray whales. Our two days at Magdalena Bay will be hotel based in the small fishing village of Lopez Mateos. Each day we'll venture out in pangas to tranquil lagoons teeming with gray whales. There is no description that can portray the experience of being so close to so many of the sea's most magnificent creatures. Included in the trip price are accommodations in La Paz the first night, the transition day, and the last night, as well as two nights accommodations in Lopez Mateos, all meals while camping and a farewell dinner in La Paz.
Coastal Expedition: Agua Verde – San Evaristo – 7 days/8 nights: $1560
Offered several times each year in the fall and the spring. This kayak expedition will have us paddling along the most rugged and remote stretch of coastline in Baja. With the Sierra La Giganta mountain range as our backdrop we will paddle areas only accessible by boat. Accommodations in La Paz the first and last night are included in the trip price, along with all meals during the expedition and a farewell dinner in La Paz.
Baja Coastal Kayaking Expedition – 6 days/7 nights: $690
This week long expedition launches directly out of La Paz Bay. Experience spectacular vistas, pristine sandy beaches, crystal clear waters for snorkeling and dramatic towering cliffs. Our campsites get more remote as the week progresses. Accommodations in La Paz the first and last night are included in the trip price, along with all meals during the expedition and a farewell dinner in La Paz.
Isla Espiritu Santo Overnight Excursion – 2 days/1 night: $290
This trip offers the perfect opportunity for those guests wanting to experience what an Espiritu Santo kayaking expedition is all about but just don't have the time for an extended trip. You will have time to kayak, snorkel, hike, and of course enjoy a beautiful Espiritu Santo sunset.
2018/2019 Schedule
Key: cc = cooperative; fc = fully catered; circ = 7 days paddling, 6 nights camping, 2 nights hotel accommodation; quick escape = 4 days paddling, 3 nights camping Pricing is based on double occupancy for all trips which include hotel accommodations. Single person supplement varies based on the trip.
2018

5/12-13

Isla Espiritu Santo National Park Overnight Excursion

fc

$290

5/12-20

Sea Kayak Isla Espiritu Santo, Baja – circumnavigation

fc

$1200

5/13-16

Sea Kayaking Isla Espiritu Santo, Baja – quick escape

fc

$750

5/16-19

Sea Kayaking Isla Espiritu Santo, Baja – quick escape

fc

$750

5/19-27

Sea Kayak Isla Espiritu Santo, Baja – circumnavigation

cc

$890

5/20-23

Sea Kayaking Isla Espiritu Santo, Baja – quick escape

cc

$570

5/23-26

Sea Kayaking Isla Espiritu Santo, Baja – quick escape

cc

$570

June 2018

6/16-23

Fly Fish Camping Safari: Fly Fish from your kayak in Magdalena Bay

fc

$1400

October 2018

October 1-13 (Pre-season) We are happy to organize private trips for groups of 4+

Please call to discuss.

10/13-21

Sea Kayak Isla Espiritu Santo, Baja – circumnavigation

fc

$1190

10/14-17

Sea Kayaking Isla Espiritu Santo, Baja – quick escape

fc

$715

10/17-20

Sea Kayaking Isla Espiritu Santo, Baja – quick escape

fc

$715

10/20-28

Sea Kayak Isla Espiritu Santo, Baja – circumnavigation

cc

$890

10/21-24

Sea Kayaking Isla Espiritu Santo, Baja – quick escape

cc

$585

10/24-27

Sea Kayaking Isla Espiritu Santo, Baja – quick escape

cc

$585

10/27-11/4

Sea Kayak Isla Espiritu Santo, Baja – circumnavigation

fc

$1190

10/28-31

Sea Kayaking Isla Espiritu Santo, Baja – quick escape

fc

$715

10/31-11/11

10 Day Epic: Loreto to La Paz

cc

$1525

November 2018

10/31-11/3

Sea Kayaking Isla Espiritu Santo, Baja – quick escape

fc

$715

11/3-11

Sea Kayak Isla Espiritu Santo, Baja – circumnavigation

cc

$890

11/4-7

Sea Kayaking Isla Espiritu Santo, Baja – quick escape

cc

$585

11/7-10

Sea Kayaking Isla Espiritu Santo, Baja – quick escape

cc

$585

11/10-18

Sea Kayak Isla Espiritu Santo, Baja – circumnavigation

fc

$1190

11/11-14

Sea Kayaking Isla Espiritu Santo, Baja – quick escape

fc

$715

11/14-17

Sea Kayaking Isla Espiritu Santo, Baja – quick escape

fc

$715

11/17-25

Sea Kayak Isla Espiritu Santo, Baja – circumnavigation
(w/optional yoga +$250)

fc

$1190

11/18-21

Sea Kayaking Isla Espiritu Santo, Baja – quick escape
(w/optional yoga +$125)


fc

$715

11/21-24

Sea Kayaking Isla Espiritu Santo, Baja – quick escape
(w/optional yoga +$125)

fc

$715

11/24-12/2

Sea Kayak Isla Espiritu Santo, Baja – circumnavigation

cc

$890

11/24-25

Isla Espiritu Santo National Park Overnight Excursion

fc

$290

11/25-28

Sea Kayaking Isla Espiritu Santo, Baja – quick escape

cc

$585

11/28-12/1

Sea Kayaking Isla Espiritu Santo, Baja – quick escape

cc

$585

December 2018

12/1-9

Sea Kayak Isla Espiritu Santo, Baja – circumnavigation

fc

$1090

12/2-5

Sea Kayaking Isla Espiritu Santo, Baja – quick escape

fc

$650

12/5-8

Sea Kayaking Isla Espiritu Santo, Baja – quick escape

fc

$650

12/8-16

Sea Kayak Isla Espiritu Santo, Baja – circumnavigation

cc

$790

12/9-12

Sea Kayaking Isla Espiritu Santo, Baja – quick escape

cc

$495

12/12-15

Sea Kayaking Isla Espiritu Santo, Baja – quick escape

cc

$495

12/15-23

Sea Kayak Isla Espiritu Santo, Baja – circumnavigation

fc

$1250

12/16-19

Sea Kayaking Isla Espiritu Santo, Baja – quick escape

fc

$750

12/19-22

Sea Kayaking Isla Espiritu Santo, Baja – quick escape

fc

$750

12/22-23

Isla Espiritu Santo National Park Overnight Excursion

fc

$290

12/23-31

Sea Kayak Isla Espiritu Santo, Baja – circumnavigation

fc

$1250

12/23-31

Sea Kayak Isla Espiritu Santo, Baja – circumnavigation

cc

$920

12/24-27

Sea Kayaking Isla Espiritu Santo, Baja – quick escape

cc

$650

12/24-27

Sea Kayaking Isla Espiritu Santo, Baja – quick escape

fc

$750

12/27-30

Sea Kayaking Isla Espiritu Santo, Baja – quick escape

cc

$650

12/27-30

Sea Kayaking Isla Espiritu Santo, Baja – quick escape

fc

$750

12/30-1/7

Sea Kayak Isla Espiritu Santo, Baja – circumnavigation

fc

$1250

12/31-1/3

Sea Kayaking Isla Espiritu Santo, Baja – quick escape

fc

$750

2019

January 2019

1/3-6

Sea Kayaking Isla Espiritu Santo, Baja – quick escape

fc

$750

1/5-13

Sea Kayak Isla Espiritu Santo, Baja – circumnavigation

cc

$890

1/6-9

Sea Kayaking Isla Espiritu Santo, Baja – quick escape

cc

$595

1/9-12

Sea Kayaking Isla Espiritu Santo, Baja – quick escape

cc

$595

1/12-20

Pacific Lagoons and the Aquarium of the World

fc

$1350

1/19-27

Pacific Lagoons and the Aquarium of the World

cc

$1090

1/26-2/3

Pacific Lagoons and the Aquarium of the World

fc

$1350

1/26-2/3

Sea Kayaking/Magdalena Bay

Whalewatch

– combo

fc

$1310

1/31-2/3

Sea Kayaking Isla Espiritu Santo, Baja – quick escape

fc

$750

February 2019

2/2-10

Sea Kayaking/Magdalena Bay

Whalewatch

– combo

fc

$1310

2/3-6

Sea Kayaking Isla Espiritu Santo, Baja – quick escape

fc

$750

2/6-9

Sea Kayaking Isla Espiritu Santo, Baja – quick escape

fc

$750

2/9-17

Pacific Lagoons and the Aquarium of the World

cc

$1090

2/16-24

Sea Kayaking/Magdalena Bay

Whalewatch

– combo

fc

$1310

2/17-20

Sea Kayaking Isla Espiritu Santo, Baja – quick escape

fc

$750

2/20-23

Sea Kayaking Isla Espiritu Santo, Baja – quick escape

fc

$750

2/23-3/3

Pacific Lagoons and the Aquarium of the World

f

c

$1350

2/23-3/3

Sea Kayak Isla Espiritu Santo, Baja – circumnavigation

cc

$950

March 2019

3/2-10

Sea Kayaking/Magdalena Bay

Whalewatch

– combo

fc

$1310

3/3-6

Sea Kayaking Isla Espiritu Santo, Baja – quick escape

fc

$770

3/6-9

Sea Kayaking Isla Espiritu Santo, Baja – quick escape

fc

$770

3/9-17

Sea Kayak Isla Espiritu Santo, Baja – circumnavigation

cc

$960

3/10-13

Sea Kayaking Isla Espiritu Santo, Baja – quick escape

cc

$625

3/13-16

Sea Kayaking Isla Espiritu Santo, Baja – quick escape

cc

$625

3/16-24

Sea Kayak Isla Espiritu Santo, Baja – circumnavigation

fc

$1330

3/17-20

Sea Kayaking Isla Espiritu Santo, Baja – quick escape

fc

$770

3/20-23

Sea Kayaking Isla Espiritu Santo, Baja – quick escape

fc

$770

3/23-31

Sea Kayak Isla Espiritu Santo, Baja – circumnavigation

cc

$960

3/24-27

Sea Kayaking Isla Espiritu Santo, Baja – quick escape

cc

$625

3/27-30

Sea Kayaking Isla Espiritu Santo, Baja – quick escape

cc

$625

April 2019

3/30-4/7

Sea Kayaking Isla Espiritu Santo, Baja –

circumnavigation

fc

$1330

3/31-4/3

Sea Kayak Isla Espiritu Santo, Baja –

quick escape

fc

$770

4/3-6

Sea Kayak Isla Espiritu Santo, Baja –

quick escape

fc

$770

4/6-14

Sea Kayaking Isla Espiritu Santo, Baja –

circumnavigation

cc

$960

4/7-10

Sea Kayaking Isla Espiritu Santo, Baja – quick escape

cc

$625

4/10-13

Sea Kayaking Isla Espiritu Santo, Baja – quick escape

cc

$625

4/13-21

Sea Kayak Isla Espiritu Santo, Baja – circumnavigation

fc

$1330

4/13-20

San Jose Archipelago – multi-island expedition

cc

$900

4/14-17

Sea Kayaking Isla Espiritu Santo, Baja – quick escape

fc

$770

4/17-20

Sea Kayaking Isla Espiritu Santo, Baja – quick escape

fc

$770

4/20-28

Sea Kayaking Isla Espiritu Santo, Baja –

circumnavigation

fc

$1330

4/21-24

Sea Kayaking Isla Espiritu Santo, Baja – quick escape

fc

$770

4/24-27

Sea Kayaking Isla Espiritu Santo, Baja – quick escape

fc

$770

4/27-5/5

Sea Kayaking Isla Espiritu Santo, Baja –

circumnavigation

cc

$900

4/28-5/1

Sea Kayaking Isla Espiritu Santo, Baja – quick escape

cc

$590

May 2019

4/28-5/9

10 Day Epic: Loreto to La Paz

cc

$1525

5/1-4

Sea Kayaking Isla Espiritu Santo, Baja – quick escape

cc

$590

5/4-12

Sea Kayak Isla Espiritu Santo, Baja – circumnavigation

fc

$1290

5/5-8

Sea Kayaking Isla Espiritu Santo, Baja – quick escape

fc

$730

5/7-14

San Jose Archipelago – multi-island expedition

cc

$900

5/8-11

Sea Kayaking Isla Espiritu Santo, Baja – quick escape

fc

$730