~Ross Island Kayak Tour – 2.5 hours
Single Kayaks $75 / Tandem Kayaks $130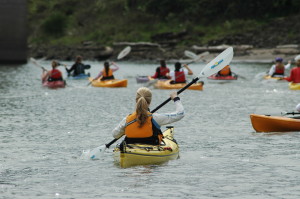 Check availability and reserve online.
First-time kayakers and experienced paddlers alike will enjoy a unique perspective of Portland on this guided tour circumnavigating Ross Island on the Willamette River. We'll paddle past an impressive blue heron rookery and possibly see bald eagles and osprey as we glide by Oaks Bottom Wildlife Refuge and beneath the impressive Tilikum Crossing Bridge.
~We also offer private tours for individuals and small groups.
Cost: $150 for one person / $85 per additional guest. Please call for availability.

~Kayaking For Kids! – 4 Hours Ages 10-12

Cost: $95 Check availability and reserve online.
"Kayaking For Kids" introduces the basic fundamentals of kayaking and water safety. Kids have fun on the water learning kayaking skills through instructional games and team-building activities. We are continually amazed at how quickly this age group learns! We focus on safety, basic kayaking strokes, directional control and FUN.